Summary:
Migrants' Rights Network publishes practical guide to rights in 8 key areas of everyday life
New easy-to-read guide aims to help migrants understand their rights
14 March 2018
EIN
Migrants' Rights Network (MRN) yesterday published an easy-to-read guide which aims to help migrants understand their rights and how to assert them in the face of the Government's 'hostile environment' policy.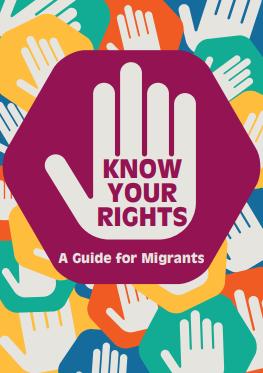 The 32-page Know Your Rights guide was written in collaboration with Against Borders for Children, Doctors of the World UK, Liberty, North East London Migrant Action (NELMA), and Project 17. It can be downloaded here.
The guide is intended for all migrants living in the UK, and MRN says it will be particularly useful for people without documents and those trying to regularise their immigration status, including asylum seekers.
The guide explains: "This guide is to help you understand your rights in a situation where immigration rules are changing regularly. It is also useful for anyone who cannot prove they are British or have Indefinite Leave to Remain, for example if you don't have a passport or immigration documents. Other migrants, including those from the European Union, refugees and those with Limited Leave to Remain will also find it useful."
The eight individual sections of the guide help migrants understand their rights in the following key areas: banking, driving, education, employment, health, housing, social services, and the detention and deportation of homeless EU nationals.
Each section provides a brief overview of the law and explains what you can do if you face challenges to your rights and where you can go for support and advice.
MRN says that even when migrants are aware of their rights, they commonly find it difficult to know where to get help to actually assert them. The Know Your Rights guide aims to provide information about how to access those rights and what course of action to take when they are abused.
Lucila Granada of Latin American Women's Rights Service said the guide is an essential tool for migrants and for organisations that offer support.
Granada said her organisation sees many migrant women who endure exploitation, physical or emotional abuse without seeking support or safety because they don't know their rights.
Eve Dickson from NELMA said: "This new guide supports migrants to understand their rights in an increasingly hostile climate. It's not about scaring people, but making sure those who are directly affected by the UK's punitive immigration regime have the knowledge they need. We are strongest when we understand what we're fighting against."