Immigration minister seeks to allay fears as anger grows over the treatment of Windrush generation caught in the 'hostile environment'
Summary:
Some Caribbean-born citizens who have lived in the UK for decades now risk threat of deportation
Immigration minister seeks to allay fears as anger grows over the treatment of Windrush generation caught in the 'hostile environment'
16 April 2018
EIN
Immigration minister Caroline Nokes wrote an article in The Voice yesterday to offer assurances to children born in the Caribbean who came to Britain as part of the Windrush generation during the 1950s and 60s.
Concerns have been growing over the treatment of members of the Windrush generation who never formalised their immigration status and who now find themselves victims of the Government's "hostile environment" policy towards undocumented migrants.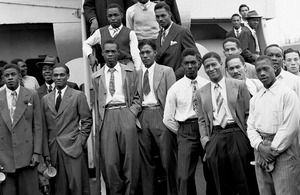 According to BBC News, thousands of people who were invited to the UK with their parents as part of the effort to rebuild post-World War 2 Britain could now find themselves being threatened with deportation.
The Guardian has highlighted a number of individual cases in recent months and yesterday it gathered together eight such cases in a single article here.
In one case featured, a 61-year-old woman who moved to the UK in 1968 aged 10 "was classified as an illegal immigrant" and last October, "she was sent to the immigration removal centre at Yarl's Wood in Bedford for a week, and then taken to Heathrow before deportation to Jamaica, a country she had not visited for 50 years and where she has no surviving relatives." A last-minute intervention from her MP and a local charity prevented her removal.
Others have lost their jobs or found themselves unable to receive medical treatment on the NHS after being unable to prove their immigration status.
BBC News noted: "The problem arises from the fact that under the 1971 Immigration Act, all Commonwealth citizens already living in the UK were given indefinite leave to remain - but the right to free movement between Commonwealth nations was ended from that date onwards. However, the Home Office did not keep a record of those granted leave to remain or issue any paperwork confirming it, meaning it is difficult for the individuals to now prove they are in the UK legally."
Solicitor Nick Nason took an in-depth look at the legal problems people face in providing the necessary proof in a blog post on the FreeMovement website here.
In response to the growing concerns, the Home Office on Friday published guidance on undocumented Commonwealth citizens resident in the UK, which can be read here. A further Home Office factsheet on the rights of Commonwealth citizens is here.
In an article in The Voice yesterday, immigration minister Caroline Nokes acknowledged there was a "growing sense of anxiety among some people in the Windrush generation" and said: "I want to give them some reassurance, because we have absolutely no intention of asking anyone to leave who has the right to remain here."
Nokes said she wanted to "dispel the myth that this Government is clamping down on Commonwealth citizens – particularly those from the Caribbean – who have built a life here."
Nokes continued: "So today I am encouraging anyone who is concerned that they are not currently able to prove their status to apply. I know that establishing status after so many years may be difficult for some people but we will do everything we can to assist them."
The Guardian, however, reported yesterday that Caribbean diplomats said the UK Government had given the impression that it was not taking a sufficiently serious approach to the problem after rejecting a request for formal diplomatic discussions.
Caribbean diplomats wanted to formally discuss the issue at a meeting of the Commonwealth heads of government to be held this week.
Seth George Ramocan, the High Commissioner of Jamaica, told the Guardian he would be seeking to raise the matter despite the lack of a formal meeting, saying: "We have senior citizens in limbo. It is not explicitly on the agenda, but we want our heads of government to bring it to the attention of the wider body."
Kimberly McIntosh of the Runnymede Trust told the Guardian: "It is shameful and abhorrent that this is where we are, 70 years after Windrush. We need a resolution for all of the Windrush Commonwealth long-term residents."
Last week, the Home Office told the Guardian: "We value the contribution made by former Commonwealth citizens who have made a life in the UK. We want to assure individuals who have resided in the UK for an extended period but feel they may not have the correct documentation confirming their status, that there are existing solutions available. They can come forward at any point to regularise their status.
"With regards to confirming their status in the UK, the Home Office works with individuals to build an evidence basis rather than requiring them to submit specific documents."
Barrister Colin Yeo took issue with the claim in the second paragraph, however, and said on Twitter that the Home Office "do no such thing, unless you can get your case in the newspapers."
Over 100,000 people have now signed a petition calling for an immigration amnesty for anyone who arrived as a child in Britain between 1948 to 1971 as part of the Windrush generation. Labour's David Lammy backed the petition, saying on Twitter: "What is going on is a stain on our nation's conscience. After WWII we invited the Windrush Generation over as citizens to help rebuild our country, and now their children are being treated like criminals. The Home Secretary and PM can right this historic wrong".
Colin Yeo noted on Twitter today that it is the hostile environment towards migrants, begun by the then Home Secretary Theresa May in 2012 and brought into law by the Immigration Act 2014, that has caused the Windrush generation to be cut off from employment, housing, healthcare and more.
Yeo said the idea of an "amnesty" is a non-starter and explained: "These people are lawfully resident *if they can prove they are entitled*. They don't need an amnesty. The problem is 1. They are being asked for proof because of hostile environment and 2. The level of proof is totally unrealistic."
Akwugo Emejulu, Professor of Sociology at the University of Warwick, made a smiliar point on Twitter: "Your occasional reminder that the Windrush generation arrived in Britain as *citizens*. There can be no 'amnesty' because they were never immigrants. Their citizenship status has been stripped from them under the hostile environment policy—that's the scandal."
Update: Following today's many media headlines, a debate was held in the Commons on the issue and the Home Office has announced that it is setting up a new dedicated team who will work across government to help individuals identify and gather evidence to confirm their existing right to be in the UK. A Home Office press release here has more details.