Home Office rolls out new UK Visa and Citizenship Application Service (UKVCAS) for in-country visa applications
Summary:
New online application form and new service centres to open across UK
Home Office rolls out new UK Visa and Citizenship Application Service (UKVCAS) for in-country visa applications
05 November 2018
EIN
A new Home Office application process was introduced on Friday that heralds the start of a significant change to how applicants will make in-country visa applications in the UK.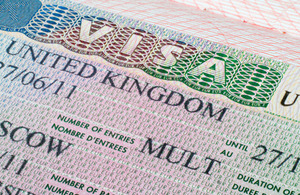 UK Visas and Immigration (UKVI) says people seeking leave to remain in the UK or to settle permanently on over 30 visa routes will now have a choice between using the existing service or the new UK Visa and Citizenship Application Service (UKVCAS).
The new UKVCAS service is being phased in gradually and it will be operated in partnership with the French information technology company Sopra Steria.
UKVI says over the next few months, the majority of paper application forms will be withdrawn and most UK-based applicants applying for leave to remain in the UK or to settle permanently will need to apply online.
The Home Offices describes the new online service as streamlined, intuitive and easy to use.
In addition, applicants will be able to book appointments at new UKVCAS centres, which will begin to open from 9 November 2018. A total of 57 centres will open across the UK by 30 November 2018.
According to UKVI, the first centre will open in Manchester and will be followed by new centres in Birmingham, Glasgow, Cardiff, Belfast and Croydon. In addition, there will be 50 enhanced service centres nationally, which will be located in local libraries and available to customers for a charge, and an additional premium lounge located in central London.
UKVI says the online application process will make clear to applicants what they need to do, what supporting evidence they will need and where they need to go to complete their application.
Sopra Steria said in an information leaflet that the new UKVCAS service will offer increased convenience and choice for applicants and allow them to submit key evidence and personal information in a more secure way. In particular, there will no longer be the need to leave documents with UKVI after application submission.
UKVI explained: "To help improve peace of mind for customers using the centres, it will now be possible, in the majority of cases, to take digital copies of evidence meaning that people won't have to hand over important documents, such as passports, while their applications are processed."
For more details of the new UKVCAS service, see UKVI's guidance document here, which contains a full list of all the visa routes that can now use UKVCAS. A UKVI press release here provides a summary of the new service.
In a presentation document about the new service, UKVI outlined the UKVCAS timetable as follows:
2nd November: UKVI's partner Sopra Steria will have their appointment booking tool live;
from 5th November: the new UKVCAS centres will start to open around the country;
and all locations will be open by 29th November.
During the period of 5th November – 29th November, the majority of applicants can choose whether to enrol their biometrics and submit their documents via these new centres or use the existing processes via Premium Service Centres.
29th November: Premium Service Centres will close.
January 2019: Service and Support Centres will open, for use by a small number of customers who require more support with their application (these customers will continue to use the current process until January).
In useful commentary published here last month, Nichola Carter of Carter Thomas Solicitors says the new process is likely to be good news for some and not such good news for others.
"We … expect to see an increase in applications that are dealt with efficiently and quickly via the new UKVI immigration application process. Unfortunately we are also expecting to see more in-depth scrutiny of applications that do not pass pre-determined criteria," Nichola Carter said.
Carter believes there will be an increased risk of refusal for some applicants, such as those from a country regarded as high risk who, for example, may not have travelled often or have limited financial means.
She concludes: "Of course, the introduction of more measures that are designed to make using the immigration system easier is great news for applicants and sponsors that are given a 'green light' by UKVI's caseworkers and/or IT systems. Applicants and sponsors that are, rightly or wrongly, flagged as requiring more in-depth scrutiny are likely to bear the brunt of the Government's continued strategy to try and reduce net migration."