Home Affairs Committee says the Windrush scandal shows the need for root and branch reform of Home Office approach to immigration
Summary:
Major new report says Windrush generation faced "appalling injustice" and have been denied their rights
Home Affairs Committee says the Windrush scandal shows the need for root and branch reform of Home Office approach to immigration
03 July 2018
EIN
The House of Commons Home Affairs Committee today released an important new report following its inquiry into the Windrush scandal.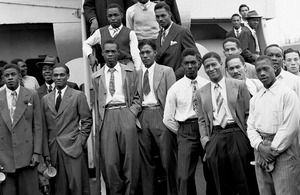 You can read the 57-page report here.
In strong language, the Home Affairs Committee said the treatment of the Windrush generation and their descendants had been appalling and demonstrated the need for root and branch reform to the Home Office's culture, policy and approach to immigration.
The report stated: "Specifically, we found that the Windrush generation was caught up by a series of different policy, cultural and organisational changes in the Home Office. These include the removal of Home Office caseworker discretion, the use of targets, restrictions on independent checks and appeals, stronger controls at the border and a raft of laws collectively known as the 'hostile' or, more recently, the 'compliant' environment.
"Within the Home Office a policy shift towards an increasingly rigid, rules-based culture had led to an environment in which people wishing to document their status appear to have been automatically treated with suspicion and scepticism. They had been made to follow processes that appear designed to set them up to fail, while at the same time vital avenues for support such as legal aid and the right of appeal had been removed. We welcome the Home Secretary's pledge that this culture will change and we will monitor the work of UK Visas and Immigration to ensure his words are followed through with action.
"Outside the Home Office, members of the Windrush generation had become caught by policies designed for those in the country unlawfully. There is little evidence that the Home Office has checked the effectiveness of these policies despite clear warning signs and evidence of mistakes being made. We call for essential checks and balances in the system to be reinstated, and for the whole suite of hostile environment measures to be subject to an evaluation, in terms of their efficacy, fairness, impact (including both intended and unintended consequences) and value-for-money."
Yvette Cooper MP said time and again the Home Affairs Committee inquiry heard evidence of a culture of disbelief that has developed in the Home Office in recent years, leaving people feeling they were being set up to fail.
Cooper said the Home Office needs to learn lessons and instigate major reforms or else the "appalling injustice" faced by the Windrush generation will happen all over again to others in future.
"Decision-making needs to be overhauled, proper appeals, checks and safeguards need to be reinstated, the net migration target which creates perverse incentives should go, and the Committee questions whether the hostile, or compliant, environment should continue in anything like its present form. The new Home Secretary has a great deal of work to do before the UK has a humane and fair immigration system. The Windrush generation, who have contributed so much to Britain, have been badly let down. The Home Office has a responsibility to make sure nothing like this can ever happen again," Cooper said.
Amongst the report's recommendations, the Home Affairs Committee called for the reintroduction of appeal rights, stating: "We have previously noted that around half of immigration appeals are successful. This provides us with little confidence in the accuracy of current Home Office decision-making. It is therefore unacceptable that decisions on Windrush cases do not attract a right of appeal. We recommend that the right of appeal be reintroduced to all immigration routes. The reintroduction of appeal rights should be accompanied by the restoration of legal aid arrangements for immigration matters in order to allow those with complex cases the access to legal advice they need."
In response to the report, a Home Office spokesperson was quoted by BBC News as saying: "A lessons learned review, which will have independent oversight, will help ensure that we have a clear picture of what went wrong and how we should take this forward.
"But in the meantime we are already reviewing existing safeguards to ensure that those who are here lawfully are not inadvertently disadvantaged by measures put in place to tackle illegal migration."