Freedom of information requests reveal high levels of self-harm in immigration detention centres
Summary:
The Sunday Herald and the Independent find high numbers of detainees are self-harming and on suicide watch
Freedom of information requests reveal high levels of self-harm in immigration detention centres
09 April 2018
EIN
The Sunday Herald reported yesterday that data obtained under the Freedom of Information Act showed that around 7 per cent of detainees in Dungavel immigration removal centre are on suicide watch each month.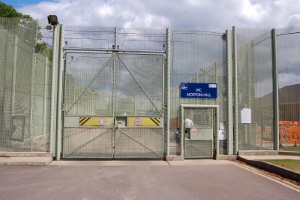 Between January and August 2017, there was a monthly average of 130 detainees in Dungavel and nine of those were on suicide watch. In one of the most serious months, 20 out of 145 detainees (almost 14 per cent) were monitored for being at risk of self-harm.
The Sunday Herald said the figures for people on suicide watch in Dungavel correspond with the proportion of people being monitored across all of the UK's immigration detention centres.
Last week, the Independent reported that more than one person a day needs medical treatment for self-harming in UK detention centres.
A freedom of information request revealed that in a 20-month period between January 2016 and August 2017, there were 647 cases of detainees receiving medical treatment following incidents of self-harm. Harmondsworth detention centre had the highest number of self-harm cases.
The Independent said the figures would add to growing concern about the mental health of people held in immigration removal centres.
Labour's Diane Abbott said the level of self-harm revealed by the freedom of information request was "truly shocking" and far worse than even the harshest critics have suggested.
Emma Ginn, director of the charity Medical Justice, told the Independent that there is a prevailing sense of helplessness among immigration detainees.
"Medical Justice continues to be concerned about inappropriate detention of vulnerable people, inadequate healthcare, unaddressed mental health needs, failing safeguards and high levels of self harm. There is accepted evidence that immigration detention is harmful in and of itself and that it is particularly harmful to those with existing mental health issues," Ginn said.
In yesterday's Sunday Herald, the SNP's spokesperson on immigration and asylum Stuart McDonald, said the UK Government's detention policy was an "absolute disgrace" and the complacency around the issue displayed by Government minister's was "totally unacceptable".
McDonald told the Sunday Herald: "Study after study from across the globe has shown that immigration detention can have long-lasting negative impacts on a person's mental health. That is especially so in the case of vulnerable people, as so many are in these detention centres. The UK Government knows this full well – because the review it commissioned from Stephen Shaw told them so, more than two years ago.
"Against that background, it is an absolute disgrace that the Home Office continues with mass detention – including of vulnerable people – in private immigration prisons without limit of time and with no other justification than administrative convenience."
A Home Office spokesperson told the Independent that all incidents of self harm are treated very seriously and every step is taken to prevent it.
The spokesperson said: "Staff at all centres are trained to identify those at risk of self harm so that action can be taken to minimise the risk. The provision of 24-hour, seven-days-a-week healthcare in all immigration removal centres ensures that individuals held there have ready access to medical professionals and levels of primary care.
"Following the Stephen Shaw review into the welfare in detention of vulnerable people, the government launched its mental health action plan, which implements a programme of action on prevention and provision to improve the diagnosis and treatment of mental health conditions in detainees."