Summary:
Asylum Information Database (AIDA) updates its UK country report on asylum with developments from 2017
Updated report on recent developments in UK asylum practice and law published
09 March 2018
EIN
The Asylum Information Database (AIDA) (a project coordinated by the European Council on Refugees and Exiles) has published an updated report on recent developments in asylum practice and law in the UK.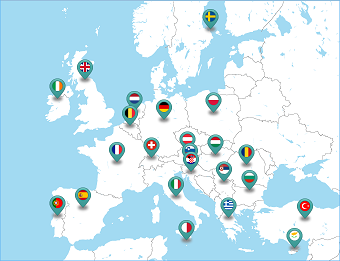 The comprehensive, 100-page report can be downloaded here. It was prepared by Judith Dennis of the Refugee Council, and is the sixth annual update of AIDA's country report on the UK.
The main body of the report provides a detailed overview of the asylum system, and is divided into four sections: asylum procedure, reception conditions, detention of asylum seekers, and content of international protection.
This year's update highlights the following key changes since the previous 2017 update:
• Immigration bail: Temporary admission was replaced by Immigration Bail on 15 January 2018.
• Section 95 support: A small rise in the weekly allowance given to those supported under section 95 was introduced on 14 January 2018.
• Detention of vulnerable applicants: The Adults at Risk policy, introduced in September 2016, was judged to have used an unlawfully restrictive definition of torture in November. The interim definition ordered by the courts will continue to be used.
• Refugee status: Resettled refugees all to receive refugee status from 1 July 2017 – previously those on the Syrian Resettlement Scheme and Vulnerable Children's Resettlement Scheme received Humanitarian Protection.
• Social welfare: Beneficiaries will have the National Insurance Number printed on, their Residence Permit on first issuing, which should result in speedier processing of welfare benefit claims.
According to the report, there were 33,512 asylum applicants in 2017, up from 30,603 in 2016. Iraq, Pakistan and Iran were the top 3 countries of origin.
Refugee Council Chief Executive Maurice Wren said: "This report shines a light on the UK asylum process and it doesn't make for comfortable reading. Despite some policy improvements over the last year, the asylum system continues to be dogged with delays and far too many initial decisions are overturned on appeal. For those granted refugee protection, being prevented from being reunited with their loved ones continues to impede their integration.
"Despite a growing body of evidence pointing to the harm caused by detention, the UK continues to make arbitrary deprivation of liberty a mainstay of its asylum and immigration policy.
"Though the UK clearly remains committed to providing protection here for people fleeing persecution and harm, given the relatively low numbers of applicants we could and should be leading the way in deciding protection claims in a timely manner and treating all those in the process with dignity and compassion."